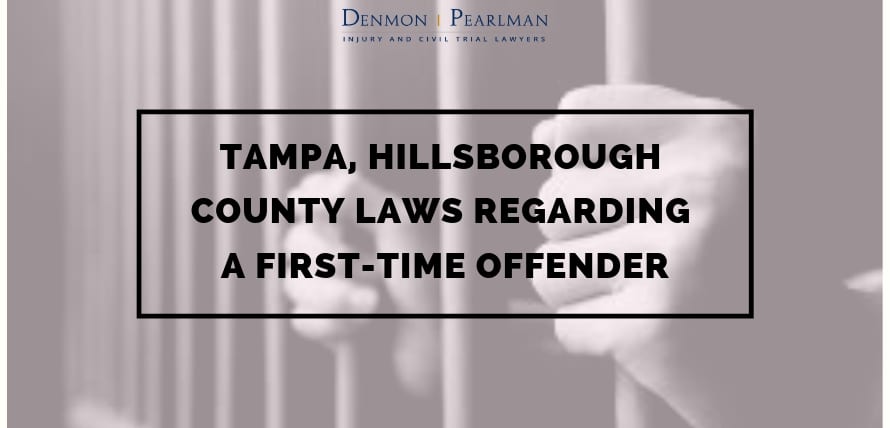 What if I'm a first-time offender and I'm facing charges in Tampa Florida?
Being charged as a first offender is frightening. You've never been through anything like this before, and you don't know what to expect. You may have a good job that you're scared to lose. You may be afraid of disappointing your family. Most importantly, you probably fear losing your freedom.
The good news is that the law, normally punitive in nature, is often kinder to first-time offenders. This is especially true if the nature of the charges is not overwhelmingly serious — for example, with misdemeanor or even felony charges where no one was hurt because of the crime.
The State's Attorney Office in Tampa and Hillsborough County has been very progressive in offering potential programs or plea agreements that will help a first-time offender avoid severe ramifications that will linger for the rest of his or her life. Our Tampa Criminal Defense Lawyers discuss those programs below.
Do I Qualify As A First Offender?
First, we want to define a first offender.
A first offender usually is someone who has not had any criminal convictions or withheld adjudications. If a person is never been even remotely in trouble before, then he or she is clearly a first-time offender. Even if you have something in your past (especially if it was a minor offense and happened years ago), it's worth talking with a criminal defense attorney in Tampa to see if first offender options might be available to you.
Tampa's First Offender Programs
Tampa has multiple programs available to qualified first offenders that can eliminate or lessen the penalties and permanent effects of a criminal conviction.
Misdemeanor Intervention Program: A misdemeanor intervention program is a diversionary program for qualifying first-time offenders. Entry into the misdemeanor intervention program is usually negotiated between the criminal defense attorney and the State's Attorney before a court trial. These lawyers then negotiate the terms and conditions of the program.
Like the name indicates, the misdemeanor intervention program is only for misdemeanor charges. Misdemeanors in Florida are punishable by up to a year in jail or up to 12 months of probation. However, there are certain misdemeanor charges that may not qualify for the misdemeanor intervention program.
A misdemeanor intervention program is like a pseudo probation period in which there is a period of monitoring or supervision. There are financial costs that will be paid by the accused. Also, the accused will have to complete terms of the program such as classes or other rehabilitative components (especially if drugs and/or alcohol were involved in the offense).
Reducing Impaired Driving Recidivism: Hillsborough County is one of the worst counties in Florida for DUI arrests, crashes, injuries, and deaths. Traditionally, even first-time DUIs were not eligible for any first-time offender programs. However, the election of Hillsborough County State Attorney Andrew Warren in 2017 changed this. He enacted a first-time offender program for certain types of DUI offenses; this took effect in 2018.
While the terms and conditions of someone's entry into a reducing impaired driving recidivism program are negotiable, the underlying concept is that a first-time non-aggravated DUI offender can have his or her charges reduced to reckless driving after completing an educational program.
Requirements for preliminary eligibility for a reduced impaired driving recidivism program include:
The case must be a misdemeanor DUI. Felony DUIs are not eligible.
The defendant must not have entered any diversion programs in the last five years.
There weren't any minors in the vehicle when the offender was caught driving under the influence.
The defendant's blood alcohol content must have been .20 or lower (usually measured through a breathalyzer).
There was not any type of motor vehicle accident involved at the time of the DUI.
The accused must truly be a first-time offender; he or she has never been arrested for any of the following offenses:

DUI or other alcohol-related charges
Driving with a suspended license (or has a pending driver's license suspension)
Causing an accident with serious bodily injury
Leaving the scene of any accident where someone was injured or killed
Vehicular homicide
Each case will be evaluated by the State's Attorney and negotiated with a criminal defense attorney in Tampa.
Adult Pre-Arrest Avoidance Program: The adult pre-arrest avoidance program is a new program that allows an aggressive attorney to get on the ball and get a deal for a client before charges are even filed. These programs allow someone responsible for a criminal offense to agree to receive sanctions such as drug treatment or anger management, pay any necessary restitution to any victims (depending on the offense), and to not re-offend in the short term. In exchange, the State's Attorney will never file charges. in other words, this keeps a person's criminal record completely clean.
This is an example of where it can pay off for a criminal defense attorney in Tampa to be hyper aggressive from the get-go. By gathering up the relevant facts and making a case that there is a simple pre-arrest resolution that still honors the justice system, a criminal defense attorney can actually get a result that will keep somebody's record completely clean. in the era of the Internet, an adult pre-arrest avoidance program is extremely valuable.
To take advantage of the possibility of the adult pre-arrest avoidance program, anyone facing charges should contact a qualified Tampa criminal defense attorney immediately. In other words, make that phone call before a detective completes his or her investigation and before charges are filed.
Juvenile Arrest Avoidance Program: The juvenile arrest avoidance program is also known as the juvenile civil citation program. This program was launched in 2017 and is an alternative to arresting and incarcerating juveniles for minor, first-time offenses. This program also allows a juvenile to immediately be held accountable under the law by completing certain conditions such as counseling. In exchange, the juvenile only pleads guilty to a civil citation. A civil citation is like a traffic ticket and not a criminal charge in any way. In other words, the child's criminal record is kept completely clean. Studies show that youths who complete juvenile arrest avoidance programs are up to 50% less likely to reoffend than they would be otherwise. Much like the rest of the programs on this list, it's important to be proactive and aggressively pursue these types of resolutions immediately after a potential offense is committed.
No Conviction Plea Negotiations: While this is not a formal program with the Hillsborough County State Attorney's office, a no conviction plea negotiation is a way for a first-time offender to resolve the case without actually having a conviction on his or her record.
Ultimately, the State's Attorney is more receptive to negotiating a charge down to something without a criminal conviction when the defendant is a first-time offender. Of course, the evidence against someone plays a major role in no conviction plea negotiations. it's important for the criminal defense attorney to build a case that shows the evidence is insufficient to get a "beyond a reasonable doubt" conviction from a Tampa Bay judge or jury.
Dismissal of Charges Negotiations: A negotiation that leads to the charges being dismissed is another alternative to the traditional courtroom trial process that a Tampa criminal defense attorney will consider when handling a first-time offender's case. Much like no conviction plea negotiations, the evidence still matters and it's still important for the criminal defense attorney to build a case that shows that the charges should be dismissed. Once again, the State Attorney's office is more receptive to the idea of dismissing a charge against someone who is a first-time offender.